Aromatherapy
Support your Wellbeing with the healing properties of pure plant oils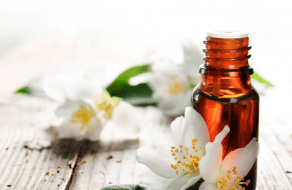 About – What is Aromatherapy
Aromatherapy is an ancient and holistic therapy which addresses our physical, emotional and spiritual wellbeing through the use of aromatic pure plant oils. These oils are highly concentrated extracts derived from the original plant matter through various processes including distillation and expression. They can be applied and absorbed through the skin in a relaxing and therapeutic massage or through a bespoke cream or lotion. Alternatively they can affect our mood and wellbeing purely through inhalation, through the use of a room diffuser, roller ball, or room spray.
Potential Benefits – What can Aromatherapy do for you?
Aromatherapy has long been recognised as helping to address many physical conditions at the same time as enhancing our mood, our general wellbeing and lifting our everyday experiences.
The small molecules of essential oils influence our state of being on a cellular level, through their absorption into our bloodstream. At Orenda, we also work with the vital energy signature of these plant oils, sensing and working with their subtle properties to bring balance to the body on an energetic and spiritual level.
We believe that people are truly amazing and complex beings, and that we should not separate our physical, emotional or spiritual wellbeing in our approach to health and happiness. We also believe that everyone deserves to function at their highest potential of health and vitality, not simply to be free of dis-ease.
Using aromatherapy to its fullest potential to influence your wellbeing, Orenda can help to:
release fear, boost optimism, release self judgment
bring stillness to the mind, invoke a sense of peace and connection to all life
feel grounded and connected to your innate strength
Other areas of our physical, emotional and mental health that can be addressed by our holistic aroma-therapeutic approach include:
Stress, anxiety, sleeping difficulties, depression
Muscular aches and pains both chronic and acute
Autoimmune & chronic disorders including: fibromyalgia, Parkinson's disease, ME, scleroderma
Arthritis and joint pain
Skin conditions such as eczema and psoriasis
Digestive complaints such as IBS or poor digestive function
Menopausal symptoms
Migraine and headaches
Orenda Aromatherapy – A deeper approach – Aiming higher
Our specialised approach combines the ancient practice of aromatherapy with reiki, crystal healing and the spiritual art of yoga. This allows us to offer a unique and more profound experience of aromatherapy, returning to its roots as a sacred and revered therapy influencing all levels of one's being.
We use only the purest, highest quality and ethically sourced essential oils, placing emphasis on vibrational purity throughout the whole cycle of production. This begins with where and how the original plant matter is collected, distilled and bottled. It continues through to our suppliers' ethics, and the handling and storage of the oils once they arrive at Orenda.
Our beautiful deep violet glassware, with its biophotonic properties, plays an active role in preserving the energetic and physical properties of our products thus extending shelf life without the use of unwanted preservatives – our products are 100% natural essential oil blends.
As well as our beautiful Sacrosancts range of aromatherapy products for sale we also offer
aromatherapy consultancy
personally tailored skincare
AromaReiki
aromatherapy massage.
Aromatherapy Consultancy
Orenda offers bespoke aromatherapy consultancy across numerous environments, working with individuals, groups, clinics and in business settings.
Consultancy in Business Settings
Aromatherapy can be used in the workplace to: enhance the wellbeing, happiness and motivation of staff; create a company specific aroma to compliment and reinforce your company identity and culture; or to enhance customer experience on your premises.
Orenda will work with you to identify your requirements and create a unique blend or blends of oils, as well as advising on how best to use these in the workplace.
Orenda's experience
As well as over 20 years of experience working with essential oils and in depth training at the Tisserand Institute, Louisa Williams has a degree in Psychology and completed 3 years of PhD level studies in Organisational Psychology in Japan and America.
Health Clinics/Wellbeing Professionals/Yoga Studios
As an owner of a health, beauty or complementary health clinic, yoga studio or private practice, you may wish to have Orenda create a bespoke 'signature' blend of oils for massage or other bodywork disciplines. Or a 'signature' aroma for your studio, clinic or practice to reinforce your company identity and enhance client experience.
You may wish to comission a specific blend for a workshop or for a particular use such energetically clearing your work space between clients.
Whatever your particular requirements, Orenda can help – either supplying you regularly with your unique products or creating a one off blend for a specific event.
Personally Tailored Skincare
Following a consultation, either in person or online, Orenda can create personally tailored aromatherapy skincare products such as cleansing oils, facial serums, body oils, hair and beard oils, creams, lotions, natural toners and gels.
These products can target any areas you wish to focus on including: skin conditions such as eczema, psoriasis or sensitivities; unique requirements of teenage skin; mature skin, wrinkles and scars. We can create bespoke products suitable and safe for: babies; during pregnancy; those suffering from ill health or undergoing treatments; the elderly and those with allergies.
Please get in touch to discuss your unique requirements.
CONTACT US / RECEIVE NEWSLETTER
Contact us with any question or to register your interest in receiving our newsletter.